Home
Courts
Denver Probate Court
Home
Courts
Denver Probate Court
Denver Probate Court
The Denver Probate Court, sometimes referred to as the 24th Judicial District, encompasses all of the City and County of Denver. The Colorado Constitution Article VI § 9(3) created the Denver Probate Court and defines its jurisdiction. The Probate Court has exclusive jurisdiction over "all matters of probate, settlements of estates of deceased persons, appointment of guardians, conservators and administrators, and settlement of their accounts, the adjudication of the mentally ill, and such other jurisdiction as may be provided by law."
COURT INFORMATION: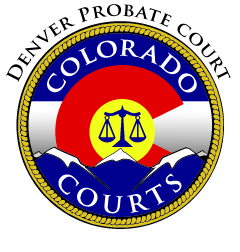 Denver Probate Court City and County Building 1437 Bannock St. Room 230 Denver, CO 80202
Phone: 303-606-2303
Hours: Monday - Friday, 8:00 a.m. - 4:00 p.m.
The Court is closed on State holidays. Click here for a list State holidays.
The Denver Probate Court is the court that hears probate issues arising in Denver County. For counties other than Denver, the probate court is part of the district court of that county. To find a district court , visit "Courts by District."
_______________________________________________________________________________________
VIRTUAL COURTROOM HEARING INFORMATION
If you have a scheduled hearing by phone or video with the Denver Probate Court (also known as a "virtual courtroom" hearing), click here for instructions on how to participate by videoconference or telephone. (These instructions DO NOT apply to JDF 712 "Notice of Hearing Without Appearance," at which your attendance is NOT required or expected.)
Webex Training for Court Hearing Participants:
The Colorado Judicial Branch is now offering Webex training for attorneys and all court hearing participants. The training is available 24/7 and provides support in four main areas:
Guidelines for successful participation (tips and things not to do)
Experiencing the WebEx room (tour of the room and features)
Different ways to join (Dial in, mobile device, computer, and court call them)
Interpreting services
To get started, click the following link: https://www.courts.state.co.us/Self_Help/VirtualSessions/story.html