Home
Courts
By District
6th Judicial District
Home
Courts
By District
6th Judicial District
People v. Mark Redwine 2017CR343
To join by webex, click on the event link for the day listed.
To join by phone, call 1.415.655.0001 and enter the meeting number for the day.
Daily event password is 17343
Monday, June 21st – Jury Trial
Meeting Number: 145 502 4709
Tuesday, June 22nd – Jury Trial
Meeting Number: 145 405 7163
Wednesday, June 23rd – Jury Trial
Meeting Number: 145 352 6593
Thursday, June 24th – Jury Trial
Meeting Number: 145 944 6033
Friday, June 25th – Jury Trial
Meeting Number: 145 132 2731
* * ANNOUNCEMENT * *
EFFECTIVE JUNE 1st, FACE COVERINGS ARE REQUIRED TO CONDUCT BUSINESS IN THE COURTROOMS OR OFFICES OF THE 6th JUDICIAL DISTRICT.
For more information please see Administrative Order 2020-7.
NOTICE REGARDING COVID-19 (THE NOVEL CORONAVIRUS) and COURT OPERATIONS:
Please see Administrative Order 2020-3
The courts and probation department provide important and essential services to the public and we will endeavor to maintain normal operations to the fullest extent possible. We understand there is concern about COVID-19 and the 6th Judicial District is requesting that you PLEASE NOT COME TO THE COURTHOUSE, PROBATION, OR PRETRIAL SERVICES if:
Have you or anyone you live with tested positive for COVID-19 within the past 14 days?
Do you have fever or chills;
Do you have a cough;
Do you have difficulty breathing or shortness of breath;
Do you have muscle or body aches;
Do you have a have a sore throat; or,
Do you have a new loss of taste or smell?
If any of these criteria apply, please call the clerk's office to reschedule your court date or request to appear by telephone if you are not represented by an attorney, or contact your attorney to file a request for a continuance or a telephone appearance. If you are subpoenaed as a witness in a case, please contact the attorney or party issuing the subpoena to explain the circumstances and discuss the options available. If you are summoned to report for jury duty, please contact the jury commissioner to reschedule your jury service. Please call to reschedule appointments with the probation department and collections.
Other Information:
Jail Population Reduction Program
Virtual Courtroom (Webex) Instructions:
Join by phone
Tap to call in from a mobile device (attendees only)
+1-415-655-0001 US Toll
+1-720-650-7664 United States Toll (Denver)
Join from a video conferencing system or application
You can dial 173.243.2.68 and enter your meeting number.
Meeting Numbers:
LA PLATA
Judge Wilson Div. 1 922 722 301
Judge Herringer Div. 2 924 932 970
Judge Norvell Div. 4 921 712 472
Judge Carlson Div. 5 923 882 313
Judge Woods Div. 3 145 805 1864
Magistrate Law Div. 6 921 458 825
ARCHULETA
Judge Wilson Div. 1 922 722 301
Judge Fay Div. A 922 124 289
Magistrate Casey Div. MG 924 927 380
SAN JUAN
Judge Wilson Div. 1 922 722 301
Judge Edwards Div. A 926 759 415
---
Welcome to the 6th Judicial District. We serve Archuleta, La Plata and San Juan County. Across the top of this website there are tabs that link to most documents and information you will need to work with the court(s). We will continue to update this website in the continued effort to provide simple, friendly customer service.

For court hours and locations please click on the Judges and Staff tab to the left.
Click here for the Drug Court site.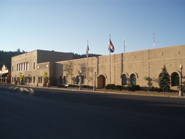 Archuleta County Courthouse


46 Eaton Drive, Suite 1
PO Box 148
Pagosa Springs, CO 81147
Directions/Map

970-264-8160
archuletaclerk@judicial.state.co.us
View hours and other information
La Plata County Courthouse


1060 E. 2nd Ave., Rm 106
Durango, CO 81301
Directions/Map

970-247-2304
laplataclerk@judicial.state.co.us
View hours and other information
San Juan County Courthouse


1557 Greene Street
P O Box 900
Silverton, CO 81433
Directions/Map

970-387-5790
970-387-0295 (fax)
SanJuanClerk@judicial.state.co.us
View hours and other information