Home
Courts
By County
Archuleta County
Home
Courts
By County
Archuleta County
Closures and Delays for Archuleta County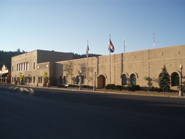 Archuleta County Courthouse


449 San Juan St.
PO Box 148
Pagosa Springs, CO 81147
Directions/Map

970-264-8160
970-264-8161 (fax)

View hours and other information
Other Courts
6th Judicial District
La Plata County
San Juan County
Special Announcements
NEED HELP NAVIGATING THE LEGAL PROCESS or LOCATING THE CORRECT FORMS?
We are pleased to announce the availability of:
Lindsay Romero
Self-Represented Litigant Coordinator
6th Judicial District
Location:
La Plata County Courthouse
1060 2nd Ave Room 106
Durango, CO 81301
(970) 247-2304
ext. 6179
Available: Monday - Friday
8:00am - 1:00pm
2:00pm - 4:00pm
Lindsay is available to answer questions and assist with the legal process.
Please call for an appointment or drop in during business hours.
Colorado Judicial Department Forms: http://www.courts.state.co.us