Home
Courts
By District
15th Judicial District
Home
Courts
By District
15th Judicial District
NOTICE
Except for matters concerning public safety as listed below, all appearances set on Tuesday, March 17, 2020, through Friday, May 1, 2020, are VACATED AND CONTINUED. These matters will be rescheduled either by written notice or by telephone. Only the following essential services will be provided:
Petitions for temporary civil protection orders and permanent protection order hearings;

Petitions for temporary emergency risk protection orders & hearings on ERPO orders;

In-custody advisement hearings;

Revocation hearings on complaints to revoke probation involving an incarcerated defendant;

Bond hearings & plea agreements for incarcerated individuals;

Detention hearings for juvenile delinquency cases;

Shelter hearings in dependency and neglect cases or other juvenile proceedings;

Petitions for appointment of an emergency guardian and/or special conservator;

Hearings on motions to restrict parenting time and parental abduction prevention; and

Emergency mental health proceedings.
If you are intending to observe these proceedings, be advised that the Judge may close the proceeding to the public. If you are wanting to make a payment, please go to www.courts.state.co.us and click on Online Court Payments.
The courthouses in Baca, Cheyenne, Kiowa and Prowers are closed to the public. Please contact the court at the following phone number for instructions on proceeding with court business:
Baca – 719-523-4555 Cheyenne – 719-767-5649 Kiowa – 719-438-5558 Prowers - 719-336-7424
Notice Regarding COVID-19 (the "Novel Coronavirus") and Court Operations:
The courts and probation department provide important and essential services to the public and we will endeavor to maintain normal operations to the fullest extent possible. We understand there is concern about COVID-19 and the 15th Judicial District is requesting that you PLEASE NOT COME TO THE COURTHOUSE, PROBATION, OR PRETRIAL SERVICES if: (1) you have been diagnosed with COVID-19 ("Novel Coronavirus") and you have not received a subsequent test confirming that you are currently virus-free; (2) you have been in direct contact with someone who has been diagnosed with COVID-19 within the past fourteen days; (3) you are experiencing a fever, cough, shortness of breath, or any other respiratory illness symptoms.
If any of these three criteria apply, please call the Prowers clerk's office at (719) 336-7424, Baca clerk's office at (719) 523-4555, Cheyenne clerk's office at (719) 767-5649, or Kiowa clerk's office at (719) 438-5558 to reschedule your court date or request to appear by telephone if you are not represented by an attorney, or contact your attorney to file a request for a continuance or a telephone appearance. If you are subpoenaed as a witness in a case, please contact the attorney or party issuing the subpoena to explain the circumstances and discuss the options available. If you are summoned to report for jury duty, please contact the jury commissioner for the appropriate county at the phone number above to reschedule your jury service. Please call to reschedule appointments with the probation department, collections, or pretrial services at (719) 336-2765. Updates on court operations will be posted at https://www.courts.state.co.us/Courts/District/Index.cfm?District_ID=15
Until further notice, the court will permit persons to wear surgical masks and gloves in court and probation buildings if they so desire. Persons may also bring small plastic containers of hand sanitizer into court and probation buildings.
Baca County Court


741 Main Street, Suite 5
Springfield, CO 81073
Directions/Map

719-523-4555
719-523-4552 (fax)

View hours and other information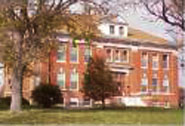 Cheyenne County Courthouse


51 S. 1st St., P.O. Box 696
Cheyenne Wells, CO 80810
Directions/Map

719-767-5649
719-767-5671 (fax)

View hours and other information
Kiowa County Combined Court


1305 Goff Street
PO Box 353
Eads, CO 81036
Directions/Map

719-438-5558
719-438-5300 (fax)

View hours and other information
Prowers County Combined Court


301 S. Main, Suite 300
Lamar, CO 81052
Directions/Map

719-336-7424
719-336-8976 (fax)

View hours and other information