Home
Courts
By District
15th Judicial District
Home
Courts
By District
15th Judicial District
The 15th Judicial District Courts and Probation continue to remain open. All counties are conducting the majority of the hearings in person. Please call the Clerk's Office in the appropriate county to determine if your hearing is in person or through WebEx.
Baca County - (719) 361-7020
Cheyenne County - (719) 767-5649
Kiowa County - (719) 438-5558
Prowers County - (719) 336-7424
If you have been authorized to appear via WebEx, please click on the icon for the County that pertains to your case.
Virtual Courtroom Information:
Please keep in mind, a virtual courtroom has all the decorum requirements of a physical courtroom:
Professional attire is required when appearing in court in person or via video.
Be prepared and organized.
Keep background noise to a mininum.
Be in a location with excellent cellular or internet service.
Only one person should talk at a time. Do not interrupt or talk over others.
Your case may not be called right away and may take longer than if you were physically present. Please be patient.
Making any video or audio recordings of WebEx court proceedings is strictly prohibited.
If you are coming to the courts to make a payment, please consider using our online payment system: https://www.its.courts.state.co.us/cjop/.
Notice Regarding COVID-19 (the "Novel Coronavirus") and Court Operations:
The courts and probation department provide important and essential services to the public and we will endeavor to maintain normal operations to the fullest extent possible. We understand there is concern about COVID-19 and the 15th Judicial District is requesting that you PLEASE DO NOT COME TO THE COURTHOUSE, PROBATION, OR PRETRIAL SERVICES if: (1) you have been diagnosed with COVID-19 ("Novel Coronavirus"); (2) you have been in direct contact with someone who has been diagnosed with COVID-19 within the past fourteen days; (3) you are experiencing a fever, cough, shortness of breath, or any other respiratory illness symptoms.
If any of these three criteria apply, please call the Prowers clerk's office at (719) 336-7424, Baca clerk's office at (719) 523-4555, Cheyenne clerk's office at (719) 767-5649, or Kiowa clerk's office at (719) 438-5558 to reschedule your court date or request to appear by telephone if you are not represented by an attorney, or contact your attorney to file a request for a continuance or a telephone appearance. If you are subpoenaed as a witness in a case, please contact the attorney or party issuing the subpoena to explain the circumstances and discuss the options available. If you are summoned to report for jury duty, please contact the jury commissioner for the appropriate county at the phone number above to reschedule your jury service. Please call to reschedule appointments with the probation department, collections, or pretrial services at (719) 336-2765.
Until further notice, the court will permit persons to wear surgical masks and gloves in court and probation buildings if they so desire. Persons may also bring small plastic containers of hand sanitizer into court and probation buildings.
Baca County Court


741 Main Street, Suite 5
Springfield, CO 81073
Directions/Map

719-361-7020
719-931-0389 (fax)

View hours and other information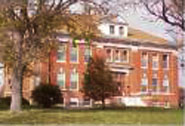 Cheyenne County Courthouse


51 S. 1st St., P.O. Box 696
Cheyenne Wells, CO 80810
Directions/Map

719-767-5649
719-931-0022 (fax)

View hours and other information
Kiowa County Combined Court


1305 Goff Street
PO Box 353
Eads, CO 81036
Directions/Map

719-931-6010
719-931-0656 (fax)
lana.lawrence@judicial.state.co.us
View hours and other information
Prowers County Combined Court


301 S. Main, Suite 300
Lamar, CO 81052
Directions/Map

719-336-7424
719-336-8976 (fax)

View hours and other information