Home
Courts
By County
Cheyenne County
Home
Courts
By County
Cheyenne County
**NOTICE**NEW LOCATION**EFFECTIVE 12/15/2021***
Please note that effective on December 15, 2021 the office location will be temporarily moved to 295 N 1st St. W, Cheyenne Wells, Colorado 80810.
All Court Dockets will be held in Kiowa County at 1305 Goff Street, Eads, CO 81036.
Click here to view the Administrative Order.
Please call the clerk at 719-767-5649 regarding any questions. Some hearings may be held remotely via Webex, please call the clerk for more information.
The 15th Judicial District is requesting that you please refrain from in-person contact with the trial courts and probation if you are experiencing symptoms of illness. Please call the Clerk's Office for further information.
During the COVID-19 Global Pandemic, the 15th Judicial District has implemented virtual courtrooms through WebEx in order to continue to provide essential judicial services to the public.
Please click the ICON for the Judge that pertains to the case you wish to observe or particapte in if you are a party to the case. If you are unsure which Judge pertains to your case, please click here or the docket tab on the left navigation bar on our homepage.
Chief Judge Mike Davidson - Div. D
District Judge Stanley A. Brinkley - Div. B
County Judge Deni Eiring - Div. A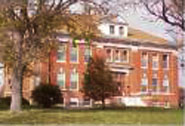 Cheyenne County Courthouse


51 S. 1st St., P.O. Box 696
Cheyenne Wells, CO 80810
Directions/Map

719-767-5649
719-931-0022 (fax)

View hours and other information