Home
Bios - Larry E. Schwartz
Home
Bios - Larry E. Schwartz
Larry E. Schwartz - 4th Judicial District Judge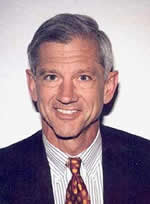 Honorable Larry E. Schwartz
Judge Larry Edward Schwartz was a Deputy District Attorney prior to being appointed to the bench. Judge Schwartz has been a District Judge for three years with his workload consisting of 50% domestic relations and 50% felony; now it is civil and criminal.
Some of Judge Schwartz's community activities have been serving as a team leader for YMCA membership; being the former chairman of the Colorado Springs Realtors Commercial and Industrial Society, having been a past chairman of the Realtor/Lawyer Committee of the Colorado Springs Board of Realtors and being active as well in the Pikes Peak Marathon and the Colorado Springs Dance Theatre.
Clerk Info Stacey: 719-452-5365
Amy: 719-452-5364
Court/Chambers Rooms S501/S536
Civil settings are held Wednesday's at 8:30 am. If parties fail to call clerk on the day of setting, a new notice to set must be filed. Parties are only given the grace period of the day of setting to call in.
The clerk will not give dates for any court proceedings without a prior notice. The only exception to this rule is if the parties have a discovery dispute and are requesting a telephone status conference with the Judge. In that instance the requesting party may call the clerk to obtain dates and must confer with the other party. A notice of the telephonic status conference must be filed.
CASE MANAGEMENT CONFERENCES
The Case Management Conference may be vacated if certain conditions are met. If the parties agree to vacate the Case Management Conference a notice to set Trial and Pretrial Readiness must be filed within 30 days of the Court granting the CMO. Once the CMCF is set and parties wish to vacate they must do the following:
File the stipulated Case Management Order
Parties must stipulate to vacate the Case Management Order
Parties must clearly and boldly state in the stipulated CMO that they have agreed to vacate the Case Management Conference. The Court will grant the CMO and order that parties file a notice to set trial and pretrial readiness within 30 days of the order.
TRIAL AND PRETRIAL READINESS
Due to the Division's criminal docket, trials will start on Tuesdays of every week. The first day of trial will start at 9:00 am with every subsequent day starting at 8:30 am. A Pretrial Readiness Conference will be scheduled one month in advance of the trial. This a mandatory date where all attorneys must appear in person. If an attorney cannot appear they can have an associate appear for them. The ONLY exception to this would be if there was only one case set on the docket and the clerk called to inform parties they could appear by phone.
More Information
Division: 5
Phone: 719-452-5365
270 S Tejon
Colorado Springs CO 80903
Directions/Map